Programmreihe NachWieVor | dance performance & age(ing)
As part of the networking and exchange project NachWieVor | Tanzperformance & Alter(n) / "dance performance & age(ing)", curated by Barbara Fuchs and Silke Z., we are looking forward to the participatory AudioWalk by the ensemble DanceOn60+ from Munich. Together with artists, scientists and our intergenerational audience, we would like to take a look at age(ing) in this series.
DANCE ON 60+ GEHT RAUS – A AUDIOWALK

Introductory workshop with AudioWalk in public space Andrea Marton (Munich)
Put on your headphones and dance away! DanceOn60+ gets the audience moving: People of all ages are invited to enter into a dance dialogue with each other and with the urban space through the AudioWalk. Each person separately and yet together, the participants are guided through the AudioWalk and Dance with headphones. Andrea Marton's concept underlines her concern to enable the cultural participation of all people.
DATES:
18 June 2022
DanceOn60+GehtRaus – An AudioWalk including Warm Up | 7:30 pm
19 June 2022
intergenerational Workshop with Andrea Marton for everybody from 8 to 108 | 2 pm
DanceOn60+GehtRaus – An AudioWalk including Warm Up | 4 pm SOUP KITCHEN – Exchange with audience and artists on the topic "Participation possibilities for artistic work with people over 60" – Moderated by Ralf Otto | 6 pm
at the ehrenfeldstudios, Köln
The AudioWalk will be available in German and English and is barrier-free.
Tickets for the AudioWalk and registration for the workshop: karten@ehrenfeldstudios.de
Dayticket: Sliding Scale 8 – 15 Euro
Concept and artistic direction Andrea Marton // Production Ralf Otto // Piano Lukas Maier // Speaker Ruth Geiersberger //
© Photo: Birgit Widhopf
Produktion DanceOn60+ Supported by Erasmus+ Projekt "Creative Aging – culturalengagement instead of social isolation" and Kulturreferat of the LH Munich
Supported by Kulturator | Die Gute Dinge Stiftung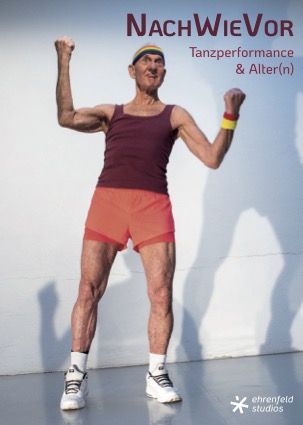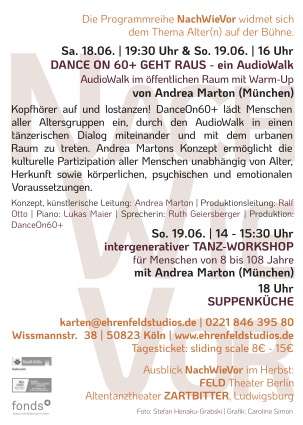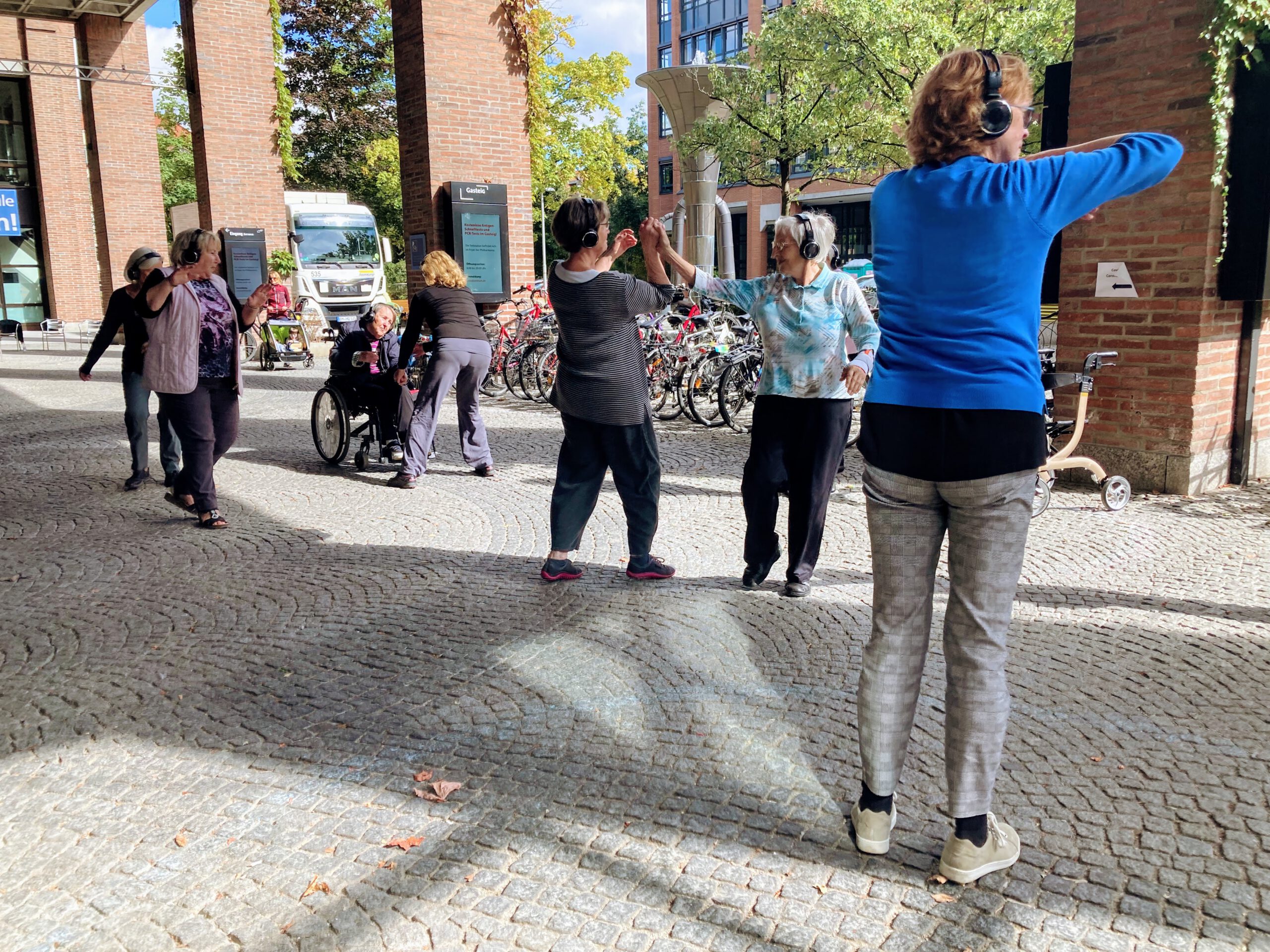 TEAM:
Artistic direction: Barbara Fuchs, Silke Z.
Production management: Magdalena Schmitt
Administration: Carina Graf
Organisation: Anna Boldt
Communication: Hanna Held
Cooperation partners: kubia (Cologne), DanceOn 60+ (Munich), FELD Theater (Berlin), Tanz- und Theaterwerkstatt (Ludwigsburg)
Press and public relations: Kerstin Rosemann
Graphic design: Caroline Simon
Gefördert vom Fonds Darstellende Künste aus Mitteln der Beauftragten der Bundesregierung für Kultur und Medien im Rahmen von NEUSTART KULTUR, dem Kulturamt der Stadt Köln und dem Ministerium für Kultur und Wissenschaft des Landes Nordrhein-Westfalen.